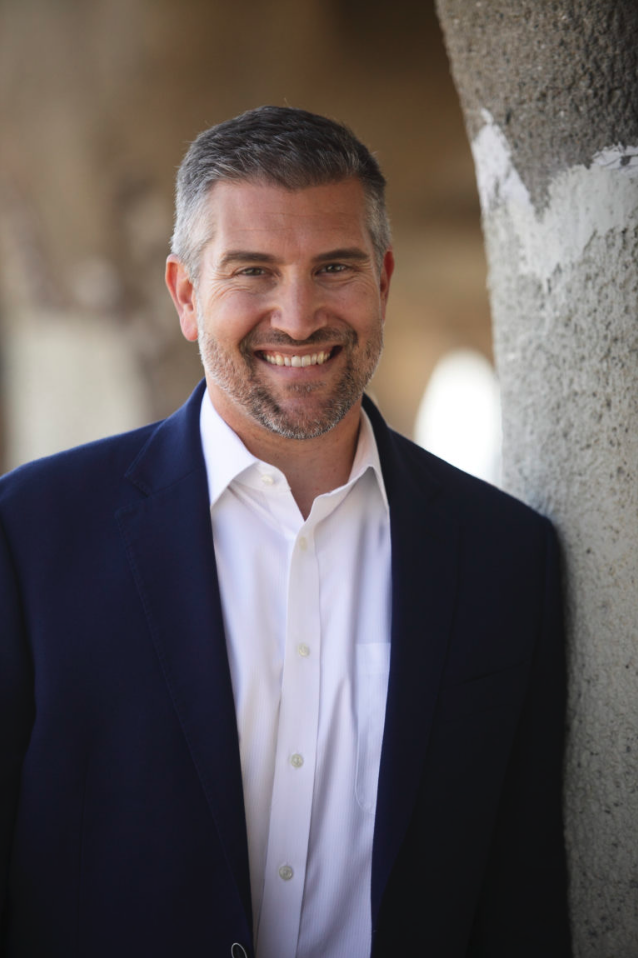 Matt Sonnen
Founder
Matt Sonnen has over 25 years of experience in the financial services industry. He learned the ins and outs of the wirehouse model at Merrill Lynch in the late 1990s.  After leaving Merrill in 2005, he was introduced to the RIA marketplace a few years later when he helped build the infrastructure for Luminous Capital prior to its founding in 2008.  As COO and CCO at Luminous, he navigated the technology and compliance challenges as the firm grew from $1.7 billion in assets to nearly $6 billion in less than five years.  Luminous Capital sold to First Republic Bank for more than $100 million in 2012, after which Matt headed to Focus Financial Partners in New York City.  There, he served as Vice President of Strategic Operations and worked with breakaway advisors seeking Independence.  He also worked with the RIA partner firms across the country in developing their strategic initiatives to benefit from best practices, streamline operations, and improve back office efficiencies.  In July of 2015, Matt moved back to California to launch PFI Advisors with his wife and business partner, Larissa Marcontell Sonnen.  As Founder of the COO Society, he endeavors to provide coaching, community, and a rigorous and well-rounded training program for operations professionals – work he so enjoys, Matt has recently decided to return to the COO seat himself!
Why We Created the COO Society
Originally Published June 30, 2021
Last week you may have seen headlines announcing the launch of our new digital consulting platform, The COO Society.  We are beyond excited to have the platform live and to see members navigating the courses and introducing themselves in the Discussion Forum.  The joke I like to make on our COO Roundtable podcast is that no ten-year-old has ever laid awake at night, staring at the ceiling, dreaming of the day they will run operations for a Registered Investment Advisor.  And yet, it can be a highly rewarding career that we believe to be of vital importance.   
I, like many of our guests, was promoted to the COO position after many years in a client service role.  I had no formal business or management training, but I knew the employees and I knew the clients well, so the owners of the RIA that I was working for said, "Why don't you run operations?"  Investment advisors can pursue a CFP or CFA designation to learn how to be a better investor, and our industry has no shortage of sales and marketing training available to those looking to hone their business development skills, but as we discuss on the podcast, there is a lack of training for operations folks who are tasked with running an RIA and figuring out how to maximize efficiencies and profitability.  That is exactly why we wanted to build a digital consulting platform that allows operations professionals to learn the skills they need to execute their jobs as effectively as possible, on their own time, at their own pace.
The learning platform is broken down into three core learning paths, which we believe are the primary responsibilities of any RIA operations professional: Technology, Human Resources, and Business Administration.  The first set of courses inside these learning paths, available upon launch, are: Overview of the RIA Technology Infrastructure, Organizational Chart (To Centralize or Not Centralize Your Back Office?), and How to Conduct a Client Segmentation Exercise at Your Firm.  Building upon this base, we will continue to roll out new course content each month, keeping the platform's focus relevant and topical.  For example, the next course we are developing highlights the Key Performance Indicators we believe every RIA manager should have at their fingertips in order to gauge the health of their organization.
The course material is delivered by what our team has affectionately dubbed my "Mini Matt" avatar, who helps guide members through fresh and engaging content.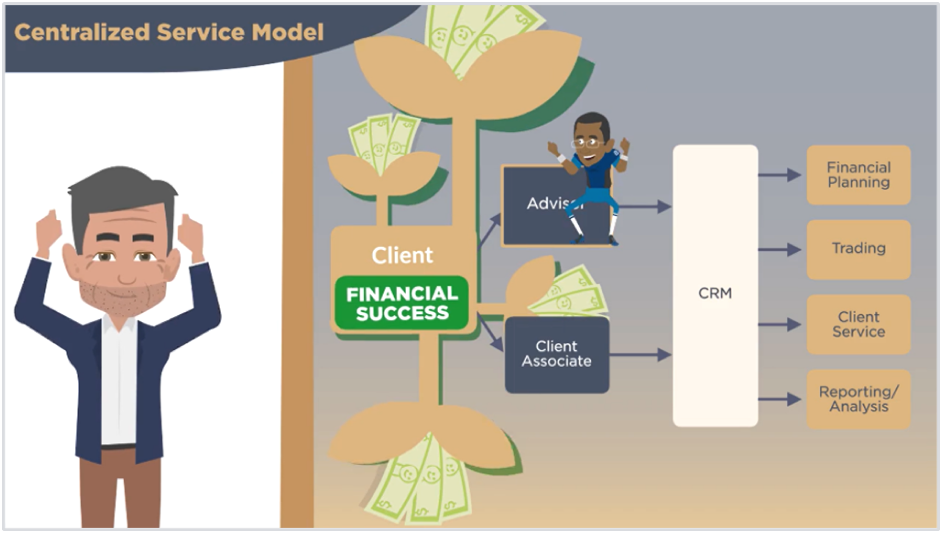 One standout feature we are most proud of is our Virtual Consultations.  Inside each course, members select from multiple choice surveys, and each individual answer elicits a unique video response where I provide my thoughts on the topic – Why should you perform a client segmentation exercise?  Why should firms be multi-custodian?  Should you consider a different org structure?  There is no right or wrong answer, our aim for these consultations is to give members a knowledge base on that specific topic, and we encourage members to navigate through each video for a more holistic educational experience.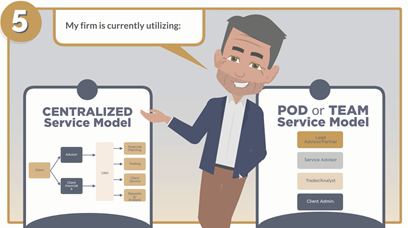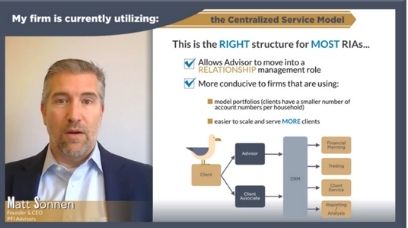 Each course concludes with an outside interview with vendors, consultants, and industry leaders of influcence.  With these interviews, we ask our outside guests to provide their perspective on the course material and provide members real-world examples of how to execute these concepts at their firms.  We don't believe PFI Advisors has a monopoly on good ideas – we want to bring members the most value we can, whether that comes from our thinking, or the experience and knowledge of other industy leaders!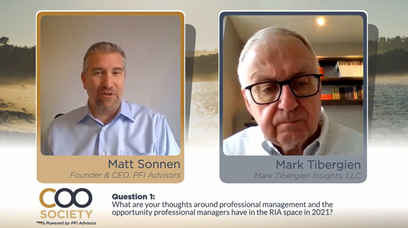 Lastly, the platform includes a Discussion Forum where members can pose questions to us or to each other and share best practices.  Throughout the course material, we ask members to share their thoughts on these topics and let everyone know how they handle these issues at their own firm.  Again, we are trying to share as much information, from as many sources, as possible.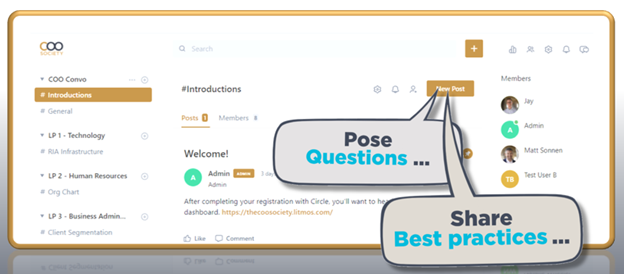 This is the platform I wish I had access to when I was promoted to run operations for Luminous Capital back in 2008.  We are relying on member feedback to continually evolve The COO Society and determine what topics they want us to delve deep on, and who they would like me to interview.  We hope you check it out and let us know what you think – we feel it is truly unique and unlike any other learning platform in the RIA industry!
Click here to read the press release announcing The COO Society.
Click here to read Mike Thrasher (RIA Intel)'s exclusive article announcing the launch.
Click here to read Diana Britton (Wealthmanagment.com)'s coverage of the platform.
Click here to read Family Wealth Report's coverage.