Below is a long, harrowing, frustrating, and oftentimes sad recount of my recent interaction with Microsoft support for our son's Xbox. As you will see, this experience has scarred me for life. I can't imagine any RIA putting their client through such an ordeal, but the principle still applies to all our businesses – are you taking the time to experience your company, your brand, and your processes from your client's point of view? Are there bottlenecks in your client service model that you have become blind to? Can your clients interact with your organization with as little friction as possible?
Read on, if you dare…
For about a year now, our seven-year-old son Luke has played Minecraft with his uncle every weekend. Connecting via Microsoft's Xbox is the highlight of Luke's week. Real gamers use headsets, but we simply put the house phone on speaker and the two of them join a Realm they have created inside Minecraft, and we listen to the two of them giggle and create new buildings and destroy Endermen together. Even with 100 miles between Luke and his uncle, the Xbox console allows for a seamless multi-player experience. That is, until last weekend.
When we logged Luke in for his weekly "Uncle Brian Time," we received an error message stating, "You cannot play on Realms because of how your Microsoft Account is set up."

This baffled us, considering the account had obviously been set up to allow for Realms (he had been playing in Realms every weekend), and we had made no changes to his account. We Googled the error message, logged into his Microsoft account, and confirmed (as suspected) that all settings were indeed correct to allow for Realms and multiplayer gaming. We then placed a call to Microsoft Support.
Or rather, I should say, "We then spent 30 minutes poking around the Microsoft website trying to find a phone number to call." We finally found a "Contact Us" button that led us down a list of questions that had nothing to do with the actual problem we were having, but at the end of the list we got what we were looking for: "To talk to a representative, plug in your phone number and we'll call you back." Microsoft Support promptly called within a minute of entering our phone number.
The Microsoft technician was very helpful and calmly troubleshooted the problem for about 45 minutes before he discovered a problem with our Spectrum modem. It turned out UPnP was turned off on the modem. Googling UPnP, we learned that it stands for "Universal Plug and Play (which) allows devices on the modem network to discover each other and establish sharing and communications." The technician explained that the error message stating that the account was not set up properly was in fact inaccurate – the problem was our modem not allowing for multi-player experience, we needed to contact Spectrum.
After a few minutes of resetting my Spectrum password to allow us to log into our account to find an electronic copy of our bill, which allowed us to find a phone number to call, our account number, and our telephone pin number, we were able to plug our phone number into Spectrum's automated phone system and wait for a Spectrum representative to call us back in "30 – 55 minutes." The Spectrum representative called back in about 40 minutes, and after an extra 50 minutes of troubleshooting the settings on the modem, she determined that UPnP had indeed been disabled. She was able to turn it back on very easily, but for some reason, the Xbox still showed "UPnP is turned off." Spectrum assured us everything was in order on their end, we needed to call Microsoft back.
Another 10 minutes of (again) walking through the Microsoft help questions to find the "Contact Us" button, they called back within a minute of us plugging in our phone number.
After walking this representative through the original error message; the details of my first call with Microsoft determining UPnP had been turned off on the modem; explaining the steps the Spectrum representative had taken to get the modem in proper "Plug and Play"/multiplayer mode; this representative began a 50-minute troubleshooting exercise of his own, in which we reset the Xbox and the modem to factory settings, after which, the Xbox was still displaying, "You cannot play on Realms because of how your Microsoft Account is set up" and "UPnP is turned off." He determined that that modem was still our problem spot and advised us to call Spectrum for a second time and tell them to set up "port forwarding" on the modem. He had me Google the following settings and asked me to walk the Spectrum representative through this and ensure they properly followed all instructions exactly as laid out.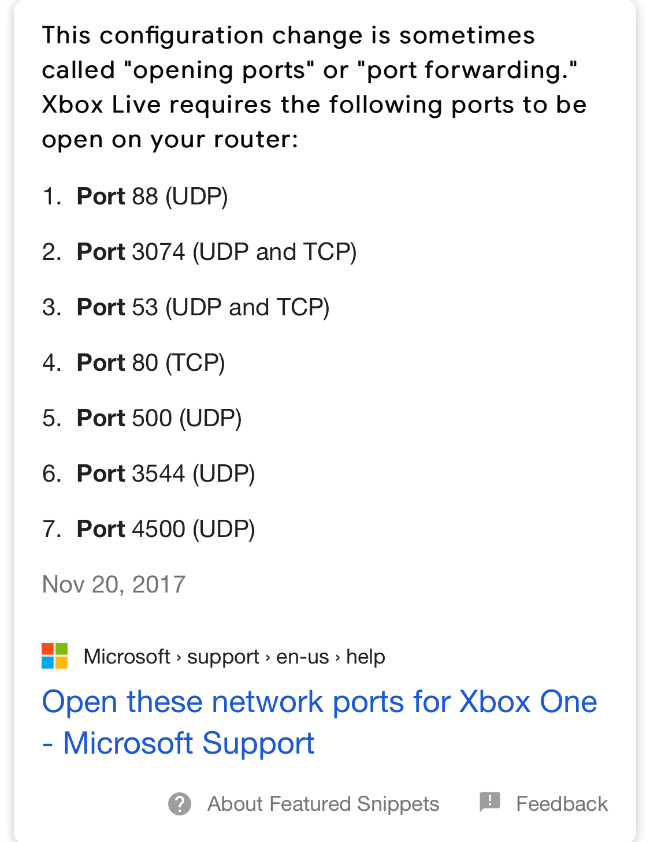 Let me pause here to remind everyone that our seven-year-old had been playing Minecraft with his uncle every weekend for a year with no issues. There had been no changes to our modem, no changes to our Xbox, no changes to our Microsoft account, no power outages over the past week that could have messed with any of the settings of either device; but parents will do anything for our children, so I soldiered on…
I dutifully called Spectrum, plugged my phone number into the automated system which resulted in a call back in approximately 50 minutes, at which point I walked the Spectrum technician through my first call with Microsoft where they discovered UPnP had been turned off; my first call with Spectrum when the representative confirmed that UPnP had been deactivated for some unknown reason and (supposedly) turned it back on; my second call to Microsoft in which we reset both the Xbox and modem to factory settings, and then proceeded to read off the port settings listed on Google to achieve "port forwarding." An hour and six minutes later, all the port settings had been changed on our modem, but the Xbox was still displaying the error message about the account not being set up properly, and it was still showing that "UPnP is turned off." At this point, the Spectrum technician said, "You know, it's weird, but I don't see an Xbox even connected to your modem…" I thought about it for a minute and then replied, "Well, the Xbox is technically connected to a Wi-Fi Extender, which is plugged into the modem, does that make a difference?"
We were now approaching the 6-hour troubleshooting mark. The Spectrum representative started spewing a ton of IP addresses, subnet masks, gateways, DNS's, followed by MAC addresses, all of which I was supposed to relay to the next Microsoft support person I got a hold of. Exasperated, I promptly began spewing F-bombs. I not-so-politely told the Spectrum technician that she needed to hold while I followed the "Contact Us" lists of useless questions on the Microsoft website in order to get a call back from a support representative – the two of them needed to talk one-on-one without me losing critical data while I played the go-between.
The Microsoft representative called, and I connected the two technicians together. While the Spectrum representative sat quietly, I walked the Microsoft technician through the original error message; the details of my first call with Microsoft determining UPnP had been turned off on the modem; explaining the steps the first Spectrum representative had taken to get the modem in proper "Plug and Play"/multiplayer mode; my second call to Microsoft and the steps that technician took to reset both the Xbox and modem to factory settings and the port forwarding specifications he gave me to relay to Spectrum; and I explained that I had, on the line with us, the exact Spectrum representative who had made those changes to the modem and who had also determined that we were using a Wi-Fi Extender, and she had specific instructions for him to solve this issue once and for all.
He promptly put us on hold.
When he returned, he very dryly stated, "It is against company policy to allow me to have three-way conferences with outside vendors."
Silence on the line.
"What does that even mean?" I asked.
He repeated the line verbatim, "It is against company policy to allow me to have three-way conferences with outside vendors."
I checked the clock to confirm we were indeed past the 6-hour mark of my journey, and I let loose. "I have the person on the line who can solve this problem…who can allow my son to play with his uncle…who can allow me to get on with my life…and you won't speak with her?!?!" Because when issues like this arise, it's no longer about technology not working, it's about the human toll it takes. After 10 minutes of begging him to speak with the Spectrum representative, we finally let her hang up when I accepted the fact it was a hopeless cause.
I then turned my sole attention to this new Microsoft technician and out of nowhere I said, "OK, JOHNNY, IT'S JUST YOU AND ME NOW! (I have no idea what his name was, but "Johnny" came from somewhere…) YOU AND I HAVE TO SOLVE THIS PROBLEM OURSELVES. I HAD THE PERSON WITH ALL THE ANSWERS, BUT YOU WOULDN'T TALK TO HER…SO NOW IT'S JUST ME AND YOU! I'M STARTING TO THINK MY SEVEN-YEAR-OLD WILL BE IN COLLEGE BEFORE HE GETS HIS XBOX BACK ONLINE, BUT YOU AND I ARE IN THIS FOR THE LONG HAUL, BABY! I WILL NOT HANG UP WITH YOU AND CALL SPECTRUM ONE MORE TIME – YOU AND I ARE FIXING THIS ISSUE RIGHT HERE, RIGHT NOW!"
I will hand it to the technician, he took my wrath and calmly started troubleshooting. He had me log into a section of the Xbox I had never seen before, and he walked me through how to manually override the IP address, subnet mask, gateway, DNS, Wired MAC, Wireless MAC, and the Port number that the Xbox was automatically receiving from the modem. By manually entering these numbers (with a gaming joystick, not a keyboard, I might add…), we were trying to force the Xbox to accept the changes Spectrum had made to our router. 45 minutes of this troubleshooting, we were getting nowhere. I hung up on the poor guy.
At the 7 hour and 2 minute mark, while I was Googling the help desk number for our Wi-Fi Extender manufacturer, hoping maybe they could provide some answers to this conundrum, my wife, Reese, said, "Hold on a minute, I have an idea…"  She and Luke's uncle started their own troubleshooting within Luke's Microsoft account (where this whole journey began).  They were able to discover Luke's annual Game Pass membership had expired two days prior.  They simply plugged in a new credit card number.  Luke logged into his shared Realm without a hitch.  "Hey Uncle Brian, are you still available to play right now?"
A blood vessel nearly burst behind my right eye.
I threw my shoes on and went for a walk. A long walk. Not a 7 hour and 2-minute walk, but a long walk.
There are a million places in this story that I could point to and say, "That's where everything went haywire," but the most obvious, and the absolute easiest issue for Microsoft to fix, is the original error message that popped up on our screen declaring, "You cannot play on Realms because of how your Microsoft Account is set up." How on earth did that message not simply say, "Your Game Pass membership has expired — enter credit card here _____"??? And how, on the first call to Microsoft tech support, did the technician not begin his troubleshooting by looking at our account to verify the membership was active? I have to think that error message has confused countless parents and sent them on similar wild goose chases…how has Microsoft never fixed this issue?
Relating this God-awful customer experience marathon to the RIA industry, I have to wonder if there are similar client service issues that exist in your business? Issues that would be easy to fix, but may not appear obvious to you when you are buried in the weeds of your business and can't see the figurative forest for the trees? We have a friend who, as a side gig, acts as a "secret shopper" for a number of business – they ask her to visit their store, buy certain items, and ask certain questions of the sales staff. She then reports back to the companies about her customer experience. I know when my parents became clients of Luminous Capital many years ago, it was extremely helpful to hear about their experience. They weren't complaining, but they would ask me questions about their experience interacting with our company – "Why do the meetings end like this?" and "Why do your performance reports look like that?" It was valuable feedback.
You can't please every client's whims and fancies, and you don't want to make wholesale changes to your business based on one single client's wishes, but if something is broken (like this error message on Luke's Xbox!), you want to fix it as soon as possible to improve the client experience. It should be as easy as possible for clients to interact with your company and they should be able to attain the information they are looking for with minimal friction. Constantly put yourself in your clients' shoes and try to experience your brand from their perspective. I read once that Richard Branson would book his own Virgin flights through the general customer service phone number, simply because he wanted to understand the process his customers went through when interacting with his company. If you can't experience your brand yourself, find a secret shopper to report back to you.
As we were drifting off to sleep last night, Reese broke the silence and asked, "Hey – remember that one time you were on the phone for 7 hours and 2 minutes for no reason whatsoever?" My right eye began to twitch.