What first-time buyers are missing is that, despite popular opinion, most transactions are not propelled solely by a seller's desire for monetary gain – they simply want to feel that by joining a larger organization, they can experience the next stage of career growth.
With headlines in the RIA industry dominated by M&A transactions, I am receiving more calls from advisors interested in completing their first acquisition. They will ask, "Where can we get financing so we can start having conversations with sellers?"
I reply, "Before you bog yourself down with debt, have you laid out what you have to offer a seller?" Unfortunately, this question is usually followed by silence and then a confused, "I don't understand the question…"
It is incumbent on you, the buyer, to convey all the areas in which your firm can help a potential seller grow, should they choose to move their life's work to your organization.
Below are some areas buyers should focus on when developing their presentation to potential sellers.
Brand
The seller must be confident that your brand is strong and will excite their clients with the possibility of transitioning to your firm. This also applies to prospective clients – can the seller see themselves winning more clients with your brand and marketing materials than with what they are touting in the marketplace? Additionally, will the seller's employees be excited to go to work for your company?
You must articulate your core values, what you stand for as an organization, and where you see the business headed before you can expect a seller to get excited about joining your firm.
Unique investments and services
The presentation to a seller needs to focus on growth opportunities. A great area to illustrate how your firm can spur new opportunities for the seller is by touting unique investment vehicles or service offerings that they currently are unable to access. With your larger buying power, are you able to offer alternative investment solutions to clients? Do you have staff in place that can offer tax preparation, trust and estate planning, bill pay, or holistic financial planning services that the seller would now be able to offer to clients and prospects? Sellers should feel confident they will win more business with these additional products and services at their disposal.
Technology
A selling advisor will need to know that, should they join your firm, they will have the necessary tools to properly serve their clients. Demonstrate that you have scalable systems and processes that will allow them to grow faster as part of your organization, as opposed to plodding along on their own. Beyond just the basic components of your tech stack (see below), highlight the tools that will be in the hands of the seller's clients and staff.
We are in a digital world where clients want access to their portfolios 24/7. To compete in the M&A landscape, you need to present yourself as a digital-first investment advisor.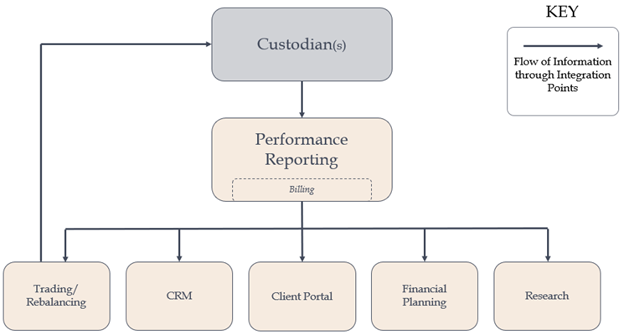 Transition support
Be mindful that the selling advisor has spent their entire career building their business to where it is today. They cannot (and will not) risk losing clients due to operational hiccups that could happen during the transition of client relationships from their old firm to yours. More important than the size of the check you are willing to write is the fact that you have dedicated transition resources standing at the ready to shepherd the seller's book of business onto your platform.
Beyond the transition of assets, show how clients' accounts will be set up in your firm's reporting software and be granted access to a client portal; all contact data and historical notes will seamlessly be inputted into your firm's CRM software; and the seller's client service team will be properly trained and ready to support clients as soon as the transaction is complete.
Employee support
In addition to clients having a positive experience during the transition, sellers will want to know their employees will be taken care of. Create a side-by-side comparison of your benefits package versus the seller's old benefits so employees can see what they are gaining and what they are losing by changing employers. Job titles and roles/responsibilities will need to be clearly defined for each employee. Your larger organization should be able to provide career advancement beyond what the seller was able to offer – you will want to highlight career path opportunities for employees and get them as excited, if not more excited, than the seller's clients are with the prospect of joining your bigger (and hopefully better) firm.
A successful merger or acquisition is dependent on the buyer's and seller's ability to integrate their strengths to create a more holistic firm that provides better opportunities to clients and employees. Beyond dollar signs, the seller must envision a brighter future as part of your firm's culture and infrastructure. In an ultra-competitive M&A landscape, buyers must realize that success is dependent on more than just the size of the check they are offering.
This article originally appeared in Advisor Perspectives.