When wirehouse or IBD advisors look to launch their own firm, the main question on their minds is, "How will I recreate the products and services I've always offered my clients throughout my career, as an employee of my current firm?" As they start to think through their technology stack, we advise them to choose a custodian first, and a reporting provider second. The reporting provider will act as the "hub" through which all data flows across the rest of an RIA's back-office infrastructure.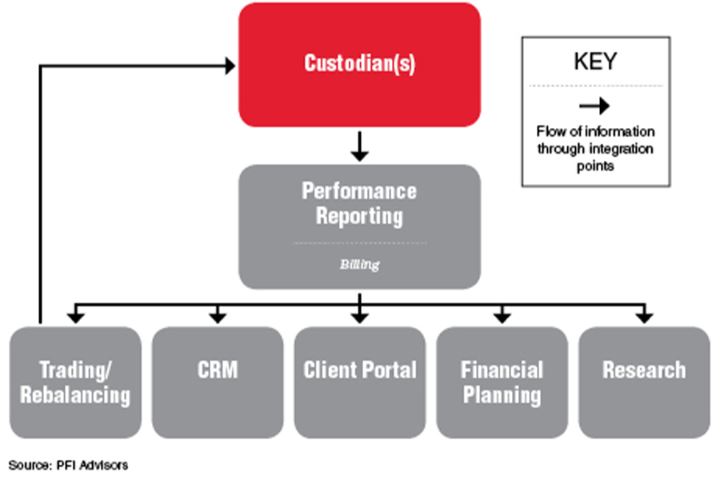 For advisors moving to the RIA channel, reporting technology offers the first chance to provide clients a holistic picture of their total net worth, including assets held outside of the advisor's purview.  Custodial statements provide account owners with balances and transaction history.  These statements are broken down by account number and act as an efficient way for clients to verify, through a third-party, the assets they have invested under the RIA's purview. 
These statements do not, however, provide any performance numbers at the account, household, asset class, or security level. The custodial statements provide no commentary on the direction of the markets or the specific investment strategy the client is invested in. If the advisor wants to paint a picture of the client's financial standing, he or she will need to utilize the performance reporting software. With this technology, advisors can create customized and dynamic reports, usually through a drag-and-drop interface, to group accounts within the household in the most logical way for the client to understand.
Reporting provider technology also includes a client portal and billing module, both essential components of an RIA's business. Because this technology is so essential to an RIA's infrastructure, PFI Advisors recently published a report, "The Importance of Reporting Provider Technology for RIAs," showcasing four industry-leading reporting solutions for RIAs.
Addepar – Offers clients an independent financial technology solution for reporting, data aggregation/verification, and analytics; as well as a variety of integrations including leading CRM and trading solutions.
Black Diamond Wealth Platform – Distinguishes itself by reducing an RIA's operational burden through a focus on the client experience, data breadth and quality, and service—all with the backing of its parent company, SS&C Technologies.
Envestnet | Tamarac– Offers its clients a comprehensive suite of services, including reporting, trading, data aggregation and reconciliation, billing, and CRM software. It leverages Envestnet | Yodlee for data aggregation.
Orion Advisor Solutions – Tech suiteincludes client experience tools, tax-intelligent rebalancing, efficient billing, integrated planning, and automated compliance monitoring, all aimed at empowering advisors to improve their firm's productivity.
Advisors looking to move to the independent channel would be well-suited to learn more about these technology solutions, as they act as the engines that drive RIA business across the country (and globe).
This article originally appeared in InvestmentNews.com