Every year, we recommend RIA leaders take time over the summer, when things inevitably slow down a bit, to take stock of not only their technology stack, but their policies, procedures, and various workflows built into the firm's use of technology. As employees come and go from the organization and the needs of the firm evolve, technology tools and processes are replaced. However, the documented procedures manuals and electronic workflows are rarely updated to reflect these changes. This year, with the many disruptions and the transition to remote work, many firms have made more adjustments than normal to the technology tools they are leveraging and the internal systems associated with those tools. With market volatility and confusion related to managing a remote workforce, odds are that very few firms have stopped to assess and document these changes their firms have undergone in the past few months.
For example, in adjusting to the "new normal," PFI Advisors upgraded from GoToMeeting to Zoom back in April, but we just realized that our internal policies and procedures manual did not reflect our user information or instructions for using this new video conferencing technology.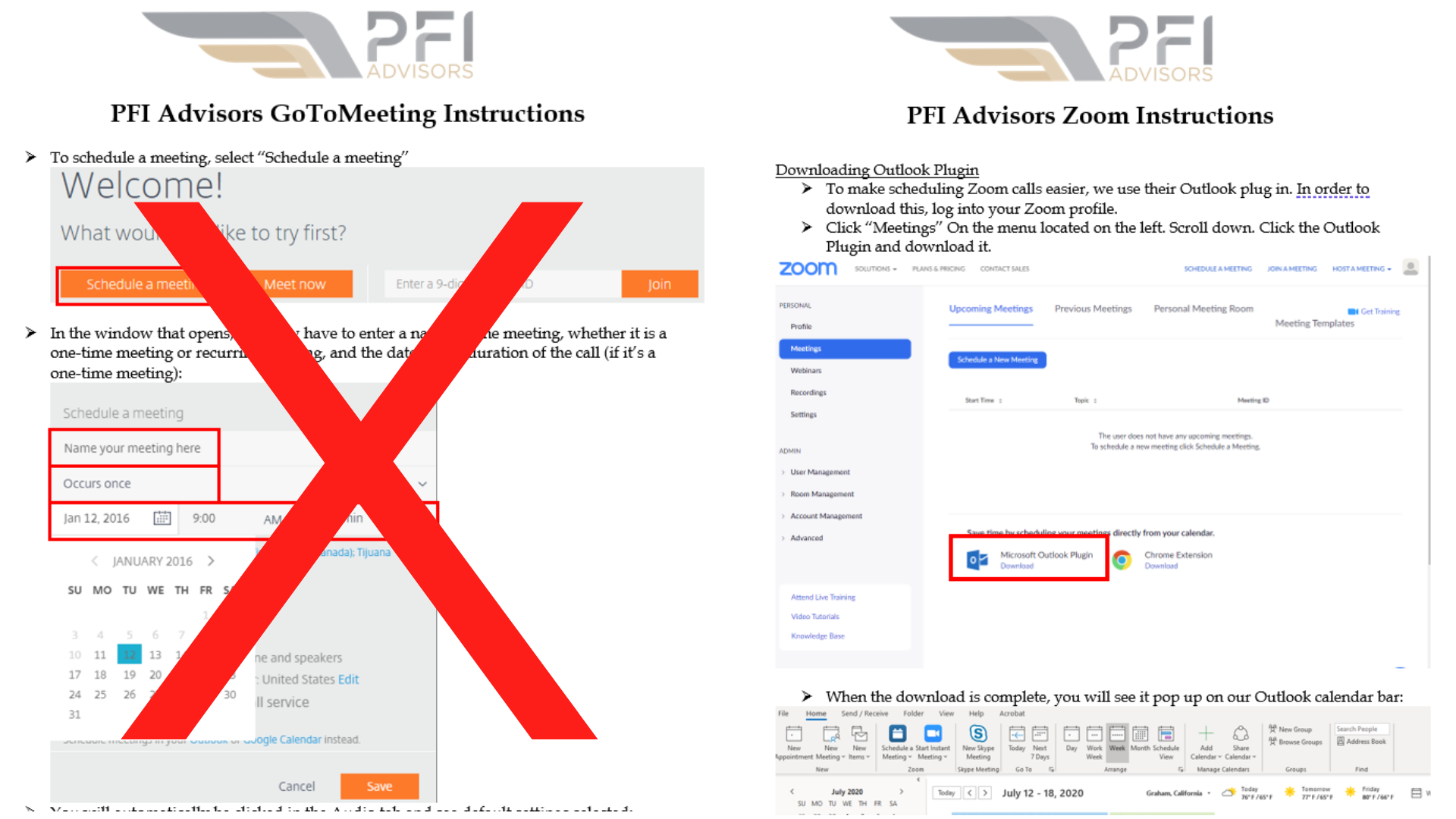 Many RIAs have been forced to upgrade their document management systems from on-premise servers to cloud-based solutions. When stay-at-home orders were first implemented, using a VPN to access servers that were physically sitting in the office worked fine, but that solution wore thin for some firms as time has gone by and many have converted to Box.com or other cloud server solutions. In these cases, instructions for how to save and how to access documents all need to be re-written and documented.
In response to this pandemic, the custodians have upped their game and have allowed for more documents to be executed via e-signature. This has been well received by advisors and clients alike but has also changed many of the workflows and day-to-day processes for RIA back office personnel. These changes need to be standardized across each firm and documented so all employees are interacting with the custodians in the same, most efficient manner.
Not only have RIAs made significant changes to their internal policies on the fly, but many of the technology interfaces and workflows associated with the vendors and service providers RIAs leverage on a daily basis have also undergone significant changes over the past few months. The VOIP phone provider that PFI Advisors leverages has completely overhauled their web interface in the past few months – a new interface, coupled with the fact that we rarely accessed the web portal when working from the office, has made it difficult for us to leverage the remote tools the system has to offer. We needed one of our employees to spend a considerable amount of time familiarizing herself with the new interface and documenting instructions for the rest of us to follow from our respective homes when accessing the system remotely.
Many RIAs utilize outsourced IT firms to act as an extension of the RIA's operations team. When working from the office, employees would go to one person with their IT problems, and that designated person would contact the IT firm to have the issue resolved. With employees all working from home over the past few months, many firms have slowly changed their workflow and have allowed employees to open service tickets directly with the IT firm and interact directly with the outsourced firm. The instructions for how to open tickets, and the policies for when employees are allowed to open service requests all need to be documented and communicated across the organization.
While clients may not be headed to Europe this summer, there will inevitably be a summer slowdown, perhaps simply brought on by national fatigue over the turbulent conditions we've all been living under for many months.  We recommend that RIAs take a breather and conduct a review of the following back office systems to ensure that their use of these systems and technologies have not changed drastically over the past few months. 

Maybe you are spending money on systems that your firm is not fully utilizing in the new remote environment, and perhaps you don't need those systems even after you return to the office.  Perhaps there is a less expensive system you could implement without causing any decrease in client service.  Maybe you have underspent in certain areas and some investment needs to be made to allow for your firm's high level of client service to continue in this new environment.  Once you have confirmed the proper systems are in place, ensure your documented policies and procedures are updated for "the new normal" that your firm has adjusted to since March.  Taking some time over the summer to confirm these policies and procedures are buttoned up will allow for a smoother transition back to the office in the fall.