While some RIAs were caught flat-footed when widespread stay-at-home orders were instituted across the country in March, most have reported a "better than expected" experience as clients have continued to be serviced in a high-quality fashion. With most technology tools now in the cloud, many RIAs did not miss a beat when employees fired up their internet-connected computers from home and logged into their typical applications. Historically, many RIAs have stressed presenting a "professional" demeanor at all times with clients and prospects, but conducting calls from home with pets barking in the background and children occasionally "video bombing," polished presentations have given way to genuine human interaction, creating an even stronger bond between advisor and client.
With clients saying, "I don't need to come to your office like I used to," and employees able to maintain their high levels of client service, many RIA owners are asking, "Why are we spending this much money on office rent?" For most RIAs, the three largest expense items are employee salaries, office rent, and technology. If owners can reduce the size of their office space and not require employees to live in expensive metropolitan areas, they can reduce two of their three largest expenditures as we come out of this pandemic—all without compromising client service.
PFI Advisors and Morton Capital recently published an industry report titled "The New RIA Workplace," where we examined what the office of the future could and should look like, long after COVID-19 is behind us. We predict that physical space will be reduced, office layouts will be adjusted, and shifts of employees coming in and out of the office will be instituted. It is important to note that each firm will need to take time to self-evaluate, seek feedback from their teams, and craft a new workplace unique to their needs and goals, but it is clear that the firms that adapt to change will likely be best poised to acquire talent and service clients in the future.
Most employees likely now have a preference for where they would like to work — they either strongly prefer the structure of an office, favor the conveniences of working from home, or would simply like the flexibility to choose when and where they will work. As the "new normal" is crafted, RIA leaders must make the challenging decision to either dictate the rules and/or allow the preferences of employees to be heard. We believe more and more firms will institute a hybrid approach, where employees can periodically work from home or the office, and the office will adopt some form of "hoteling" with shared workspace with no assigned desks/seats.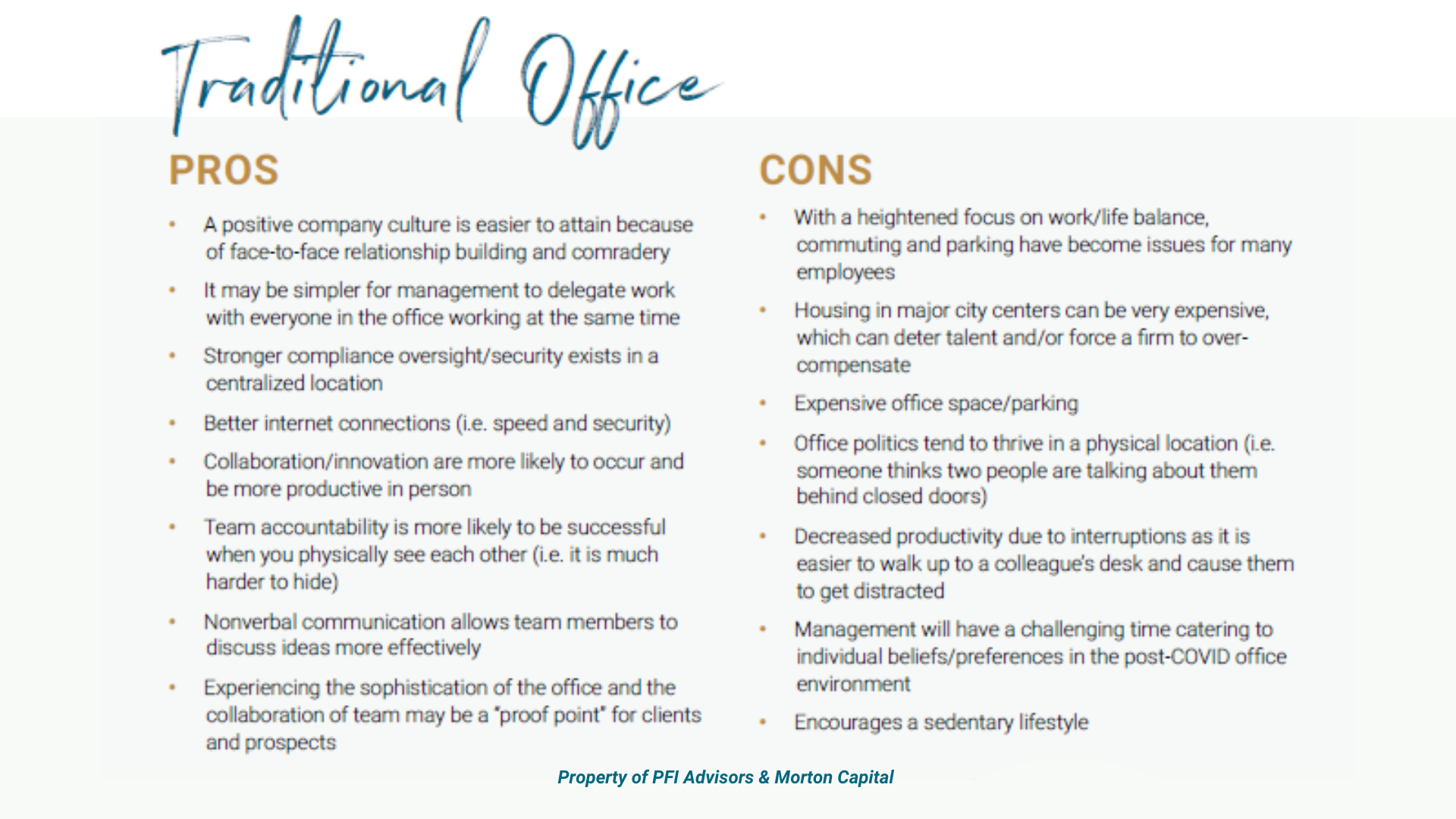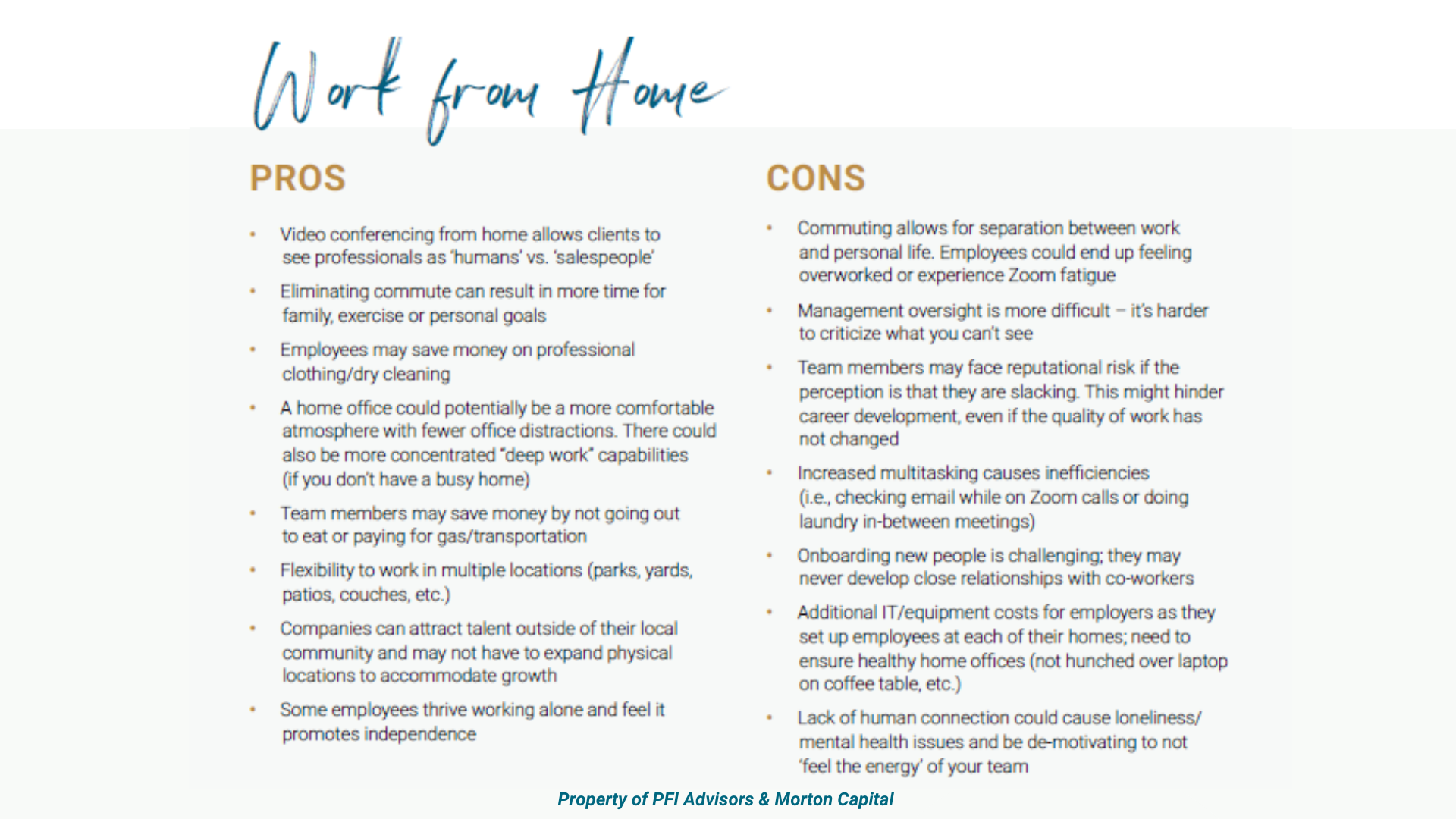 A hybrid approach will force firms to evolve three key areas of their business: leadership, culture, and infrastructure.
Leadership
How will managers adapt if they can no longer "see" employees working? Michael Kossman, COO of Aspiriant suggests the new workplace will drive employers to "focus on 'output-based management' and move away from 'presence-based management.'" This will require a massive emphasis on communication, instituting morning check-ins among employees and departments as well as one-on-one conversations not only to ask, "What are you doing?" but simply, "How are you doing?" Kossman also points out that firms must "accept that some functions in your organization, and some people, will do better in an office-based environment and that others will thrive working remotely." Leaders must recognize that change is hard and should proactively make it as seamless as possible by giving team members the resources they need to be successful "at their desk," wherever that may be.
Culture
The RIA industry has always prioritized teamwork "as a strategy to achieve various benefits, including specialization, deeper internal intellectual capital, economies of scale and a broader service set," according to the research firm Cerulli. Historically, team-building exercises occurred in person, with virtual happy hours only emerging as a mainstream activity over the past two months. The energy of the team ignites a fire to push the firm forward, which results in revenue growth, client growth, relationship growth, and personal growth. In a hybrid environment, Brandon McKerney, Director of Operations at Columbia Pacific Wealth Management stresses, "We don't want people to feel like proximity dictates how work can get done, the resources they can access, or how their value is perceived." To maintain culture in the new world, regular communication about the vision, core values, and mission will need to be a priority for leaders.
Infrastructure
This may be the time to evaluate a centralized service model within your firm, if only to provide more oversight and efficiencies when team members are not physically located together. RIAs will also want to consider allowing operations team members to work in shifts (whether in the office or remotely) to allow for more personal flexibility. Budgets should be adjusted for the "new normal," as office supplies and travel expenses will most likely be reduced. For those familiar with the Traction model, this is the time to re-evaluate if you have the right seats, the right people, and the right people in the right seats.
There is clearly no one-size-fits-all solution when it comes to designing the workplace of the future and RIAs will continue to learn and evolve over time. As we enter this adjustment period, it is important that employees are approached with empathy, without lowering the bar for client service. Firms that innovate, think creatively, communicate clear expectations to their people, establish a culture of team accountability, and have output-based goals will emerge as leaders of the future. As management guru and former CEO of Intel, Andy Grove, stated, "Bad companies are destroyed by crisis. Good companies survive them. Great companies are improved by them."
This article originally appeared on WealthManagement.com