I recently stumbled across this tweet from Dee Snider, the lead singer of the 80's "hair metal" band, Twisted Sister: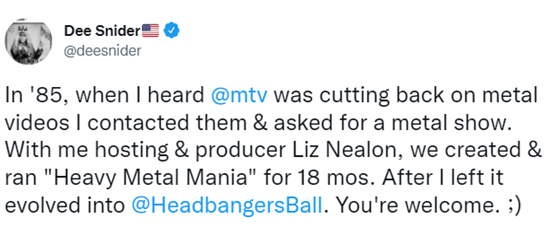 To provide some back story, Twisted Sister rose to fame in 1984 with their third studio album, "Stay Hungry," which featured the hit singles, "We're Not Gonna Take It" and "I Wanna Rock." Lead singer Dee Snider gained further popularity in 1985 when he appeared at the Parents Music Resource Center ("PMRC") hearings in Washington, DC and spoke eloquently in front of the panel, opposing Tipper Gore, Al Gore's wife, in her efforts to label certain music (much of it heavy metal) as "offensive." 
The tweet above shows how he used his clout in the industry to convince MTV (that era's go-to platform for promoting musicians) that there was indeed demand for heavy metal music. Snider created "Heavy Metal Mania" and hosted the show for nearly two years. By the time he could no longer host the show, the executives at MTV were so convinced of the relevance of heavy metal, they created another show, "Headbangers Ball." This series aired from 1987 until 1995 and became one of MTV's most popular shows. It's fairly safe to say that without Dee taking the initiative and reaching out to MTV, "Headbangers Ball" would have never existed, and many hard rock and heavy metal bands would have lost access to their #1 promotional vehicle in the late '80s.
Being the nerdy heavy metal fan that I was back in the '80s, "Headbangers Ball" was a big part of my teen years. As the nerdy RIA operations fan today, this tweet resonated with me and reminded me of the many conversations we have with RIA operations professionals during our interviews on the COO Roundtable podcast. My favorite question during a podcast is always, "Tell me about your career – how did you end up where you are today?" I ask this regardless of the specific title my guest has, be it Chief Operating Officer, Director of Operations, or President, etc.. And the most common thread in everyone's answer to that question is always, "I just kept raising my hand when the opportunity presented itself."
In Episode 26 of the podcast, Matt Ran of Telemus described how he grew his career from intern to COO and ultimately as partner of the RIA. "Over time, I've just acquired more roles as people have left the firm. Eventually, I took over the technology role when our Director of Technology moved into a different position. I then took over Marketing and Business Development when our marketing person moved back to Cleveland. Then I took over Client Experience and then eventually, took over Operations and became the COO."
Cecilia Williams of Halbert Hargrove shared a similar story about her career in Episode 20: "I took basically anything I could get my hands on," she said. "I became our Trading Manager and I joined the investment committee. No one loves the compliance work, so that came to me pretty easily. They were like, 'Cecilia, do that [the CCO role] if you want to.' I gained a lot of experience. I also had a dual role at one point where I was on the client service side as a wealth advisor." She summed up her career progression by saying, "I've had the perspective throughout my career to take on any project that helps the firm grow and help make sure that we're successful."
In Episode 18 I asked Eric Hehman of Austin Asset for the secret to his career success, propelling himself from an unpaid internship into the CEO role. He summed up his advice in just one word: "Care… Do you care just a little bit more about a particular topic than someone else that's already [in a particular role]?" In speaking of his career progression specifically, he said, "I just cared a little bit more about QuickBooks than the founder did. I cared a little bit more about organizing the files and making sure we had agreements for all of our clients than he did. I took one little area of the business and cared a little bit more about it than he did. And all of a sudden, that became how I made an impact in a positive way."
That's exactly what Dee Snider did in 1985 – he simply cared more than anyone else. He was upset at the thought of MTV no longer promoting heavy metal music, so he raised his hand and offered to host the show himself. If he did not take the initiative, "Headbangers Ball" would have never existed, and countless rock bands of the late '80s would never have been discovered. With that, he made an immeasurably positive impact on the hard rock/heavy metal scene.
If you see something at your firm that could be done better, or if you are afraid your firm will lose out on a particular avenue of growth, 'Be Like Dee,' and don't be afraid to raise your hand! Your firm, and your career, will thank you!